A Chronological Confession of Faith
ADVENT SEASON AND THE CHURCH YEAR
Guest post by Wesley Callihan
The Advent season marks the beginning of the church year. As my pastor once said, one of the most important things we can learn in our celebration of the seasons of the church year is the basic truth that calendars are not silent – they always tell a story. Calendars are not neutral. The question is, what story do they tell? Or to ask it another way, who is the Lord of time and does our answer show in the way we mark the passing of time?
Philip Schaff, one of the greatest of modern church historians, says about the church calendar that it centers on and elevates the person and work of Jesus Christ and His glory. It developed as a yearly representation of the main events of the gospel history; the birth, passion, and resurrection of Christ and the outpouring of the Holy Spirit, as well as an exhibition of the life of the Christian church, its founding, growth, and consummation, as a whole and in its individuals, from regeneration to the resurrection of the dead.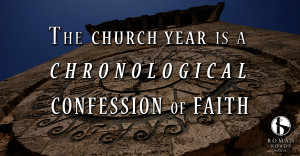 "THE CHURCH YEAR IS, SO TO SPEAK, A CHRONOLOGICAL CONFESSION OF FAITH; a moving panorama of the great events of salvation; a dramatic exhibition of the gospel for the Christian people. It secures to every important article of faith its place in the cultus of the church, and conduces to wholeness and soundness of Christian doctrine, as against all unbalanced and erratic ideas. It serves to interweave religion with the, life of the people by continually recalling to the popular mind the most important events upon which our salvation rests, and by connecting them with the vicissitudes of the natural and the civil year."
Though the Scriptures contain no warrant for the festivals of the church year (neither does it contain anything that would forbid them so long as they are not presented by the church as binding on the conscience of the believer),
the Old Testament patterns of religious practice are a precedent, and the necessity of at least some kind of Christian worship and public life demands that we think about how we mark the passing of time. The Anglican/Episcopalian Book of Common Prayer says in its preface that the church year and other extra-Biblical practices of the church are not binding on the conscience but legitimate uses of the church to promote faith.
Unfortunately, the church calendar became so overlarded with saints days and other festivals in the middle ages that the Reformation leaders felt the necessity of restoring an earlier simplicity, but there was never any question of abandoning the church year entirely, as that would simply hand over the keeping of cultural time to the unbelieving world.
Written by Wesley Callihan, originally appearing in Scholegium, Vol. 1.2